This page is now "Big Gym City General Photo Page #1"
"Assets Values" (for sale purposes) are summarized on: Pages1-4, 5-8, 9-12, 13-16 & 17-20,
Thank You Very Much. (photo of unworthy webmaster below ).
Photo #21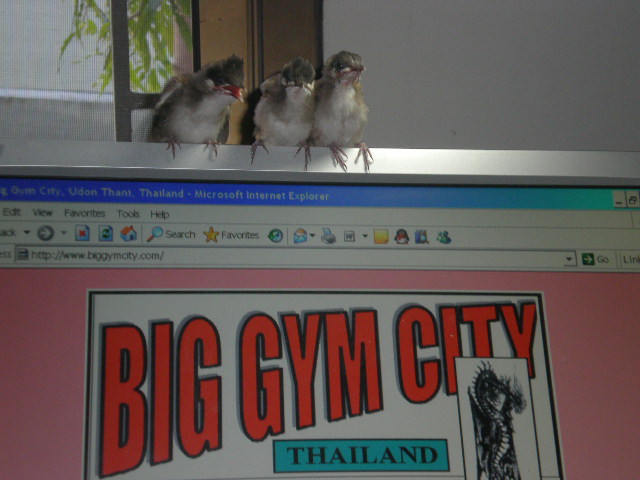 Staggeringly cute baby birds that are so tame you can hold them. They can dive bomb mosquitoes in mid air & gulp them down . They were born in one of the VERY tall Ton Aso trees at Big Gym City & fell out of the nest. There is a LOT of small wildlife at Big Gym City becos despite being in the City of Udon Thani Thailand there are many, many trees, quiet corners, boulders & fish ponds.
****

Photo #22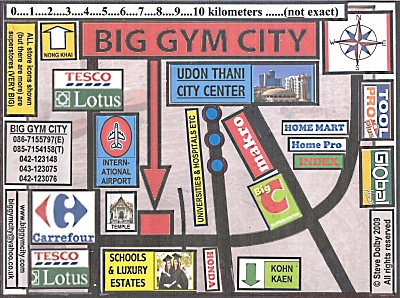 This map of Big Gym City is shown elsewhere but deserves some explanation as it is slightly out of date (example: The Carrefour Superstore was sold to Big C (Thai Superstore). The City of Udon Thani is literally "exploding" w/ development of every kind (housing estates absolutely everywhere now, bangkok busnesses relocating to the north (Udon Thani [no flooding & no political unrest]) etc & next year 2015 ASEAN opens Udon thani as a distribution centre for all of south east Asia .... Wow!
****
Photo #23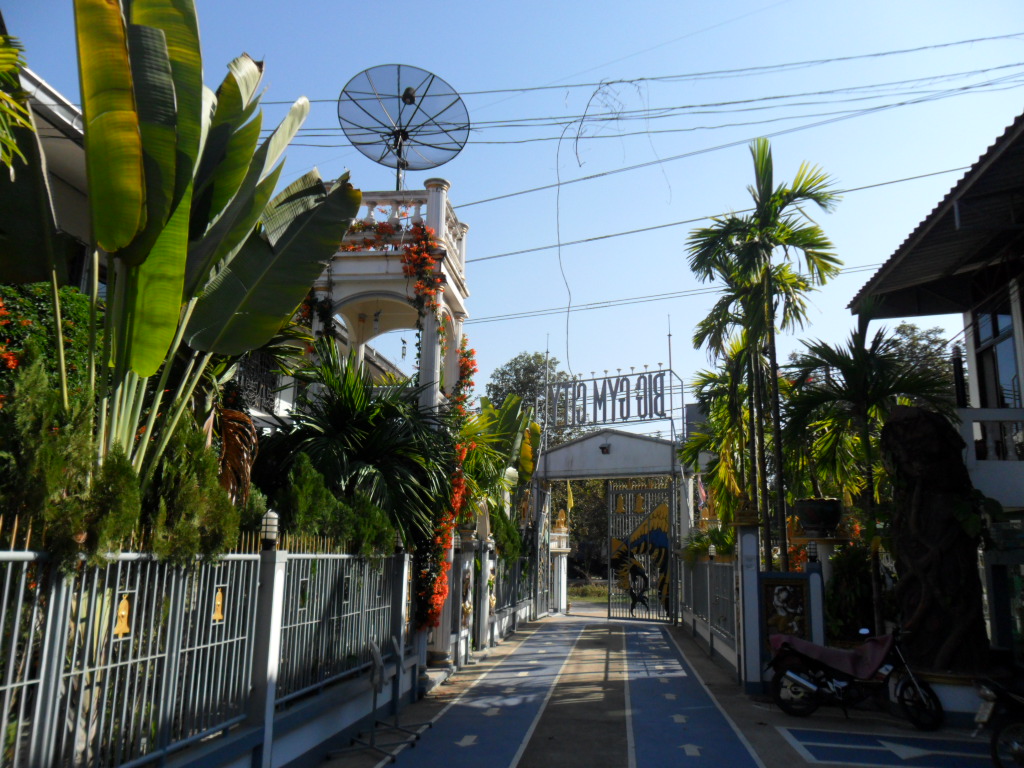 A part view at dusk of Jogging Track #2 (southern section) at Big Gym City, Thailand. A cool & peaceful atmosphere to keep a healthy heart. The 2 mirrors on stands (bottom left) direct sunlight into the far corner of The Exotic Snack Bar where there are a number of large leved vines curling round the stone bar.
****
Photo #24
This is a photo of the small bridge (across the pool) which is one of 4 entrances to The Big House at Big Gym City, Udon Thani , Thailand ,. The leaves can be troublesome at certain times of year BUT the staggeringly beautiful profusion of bright orange flowers on the vines that climb the 5 Roman columns supporting verandas & roof eaves make occasional sweeping up well worth it
****
Photo #25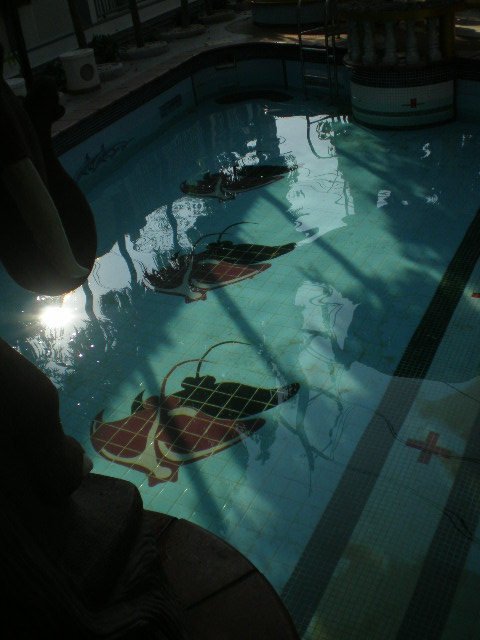 Evening is quite enchanting sitting between the two elephant fountains which stand to east & west of the main steps down from the Big House at Big Gym City, Udon Thani, Thailand. Privacy in such beautiful & peaceful surroundings is increasingly difficult to find in our crowded lived, but it can be found here.
****
Photo #26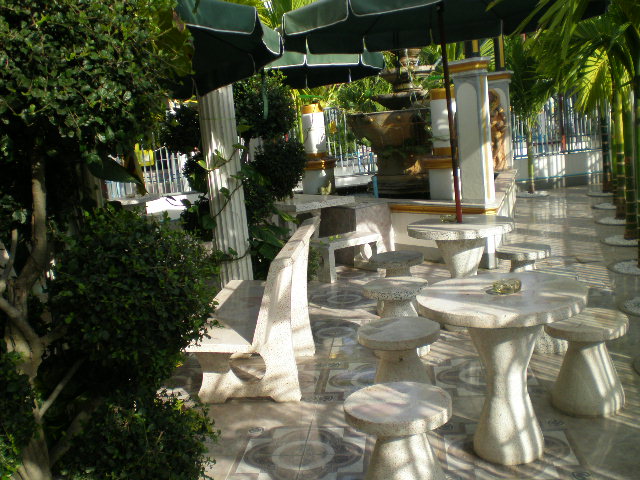 Another secluded beauty spot at Big Gym City,the 3m high exotic fountain with Thai godesses at each corner is particularly restful.
****
Photo #27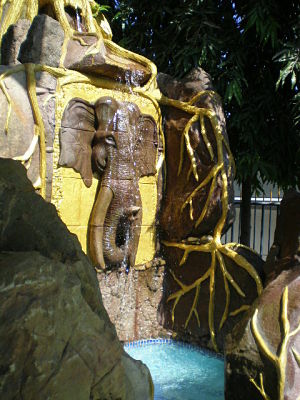 This VERY exotic spa is some 6m high & has 2 waterfalls & 2 fountains. It is surrounded by huge boulders (real ones) & is mind bogglingly peaceful, absolutely love it.
****
Photo #28

Part view of southern section of Jogging Track #1 & the double security walls. Parking light banks are separated into blocks of East & West. These flood lights can illuminate either east or west or both, of the main gate. This will (February 2015) be iilluminating the parking lane of the Udon Thani central southern inner ring road. This is the MAIN access road from Udon thani International airport & to/from blocks of superstores to east & west. It is also used by police escorted multi VIPs (Royals too) cavalcades.

****
Photo #29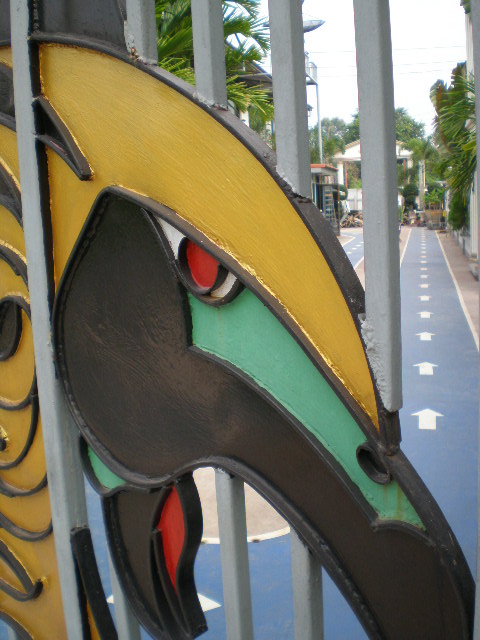 Iconic 8 m high Double Eagle Gates grace the main entrance to Big Gym City, these gates are much photographed by tourists (particularly from China & Japan) , but also by casual passers-by & temple visitors (close to BGC). In this photo Jogging Track #2 & in the distance the second double gates leading to the spare land with building permits & architect plans in hand.
****
Photo #30



World Class (& unique [unless someone copied it) pool art at Big Gym City (designed, built & copyright Steve Dolby). Did you see the solar heated dolphin fountains that fall about 4m, beautiful.
****

Photo #31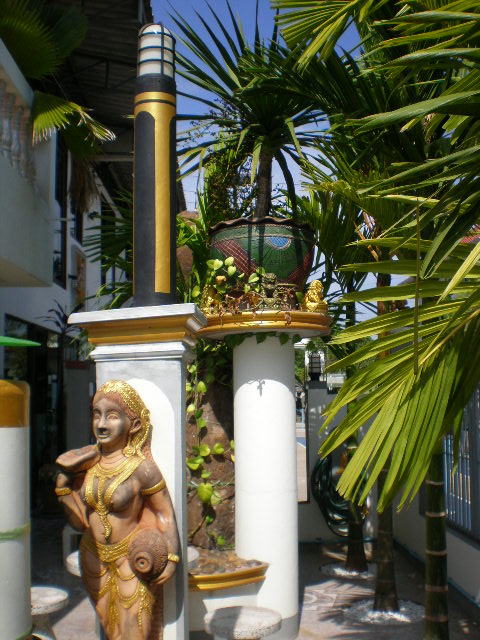 One of many fine artistic corners at Big Gym City.... Do you see that small palm in a pot some 2m up in the air on a concrete post (the pot is heavy) ... Err but how does it survive (about 8 years so far). Actually that tree is "cheating" becos it has a 4 inch PVC pipe going from inside the bottom of the ornate pot, down thru the concrete column into the ground (soil) itself , that is how it survives (it even has babies). Oh, don't worry about the 4 gold lions facing north, south, east & west around the bast of the pot, they (by Thai tradition) bring good fortune to all who sit on the stone pebbles seat below.
****

Photo #32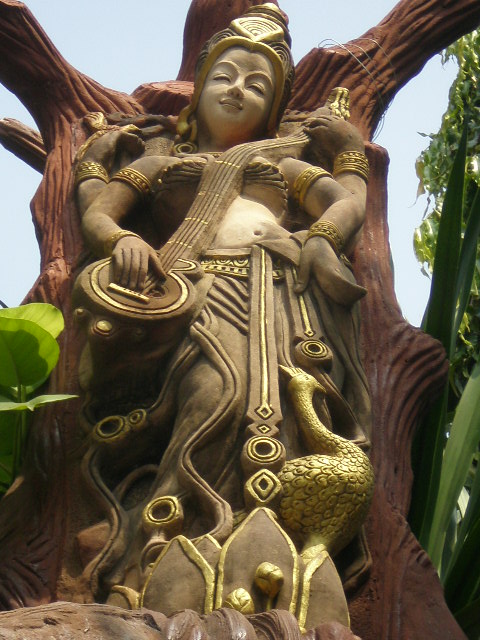 THE Angel of Luck (Thai name Koon Su-Lat-Sa-Wa-Dee), THEREFORE tread VERY carefully in her presence, becos this beautiful lady blocks entry to all ghosts, demons & evil spirits & Is actually THE ARCH ANGEL (Err yes son, that's the boss) of ALL the other angels. She loves song & , music (& we love her too.Yes Madam) .... & we tread VERY carefully around The Exotic Spa at Big Gym City, Udon Thani, Thailand becos NOBODY wants bad luck, OR to bump into any evil spirits., & you in the corner CERTAINLY don't laugh, becos these are VERY old traditons. .... ABSOLUTLY BEAUTIFUL LADY ... (the setting is quite spectacular too).
****


Photo #33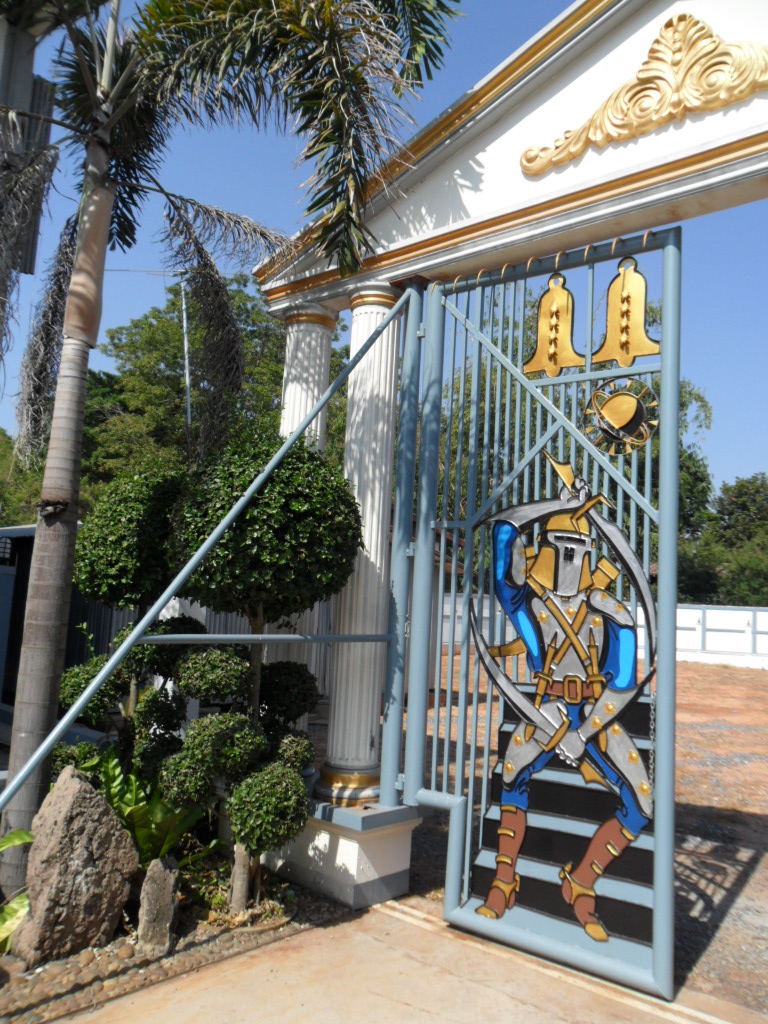 Beyond this gate is spare unused land belonging to Big Gym City which has Thai Government planning permission (& all construction architect designed plans) for twenty extra rental rooms & a second swimming pool. Jogging Track #1 goes all around this land on it's northern side.
****

Photo #34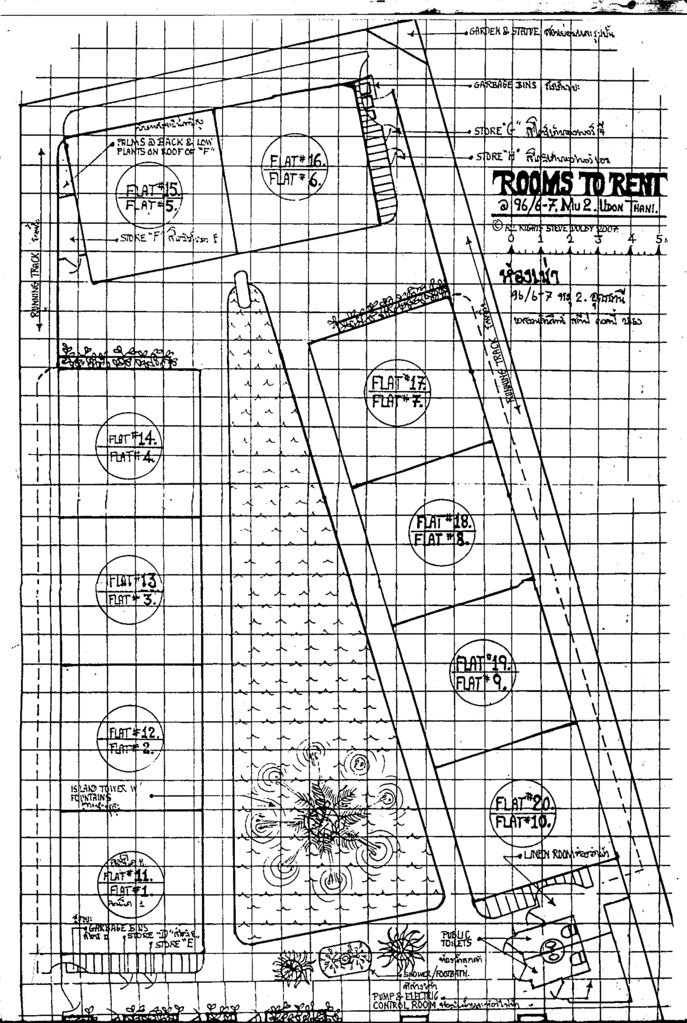 This is Part A of the original hand drawn plan for the Big Gym City spare land. It was then re-drawn to architectural standards by a Thai government engineer & duly approved. This valuable piece of extra BGC land could probably have it's criteria officially changed to go multi (4-6)
height with for example a car park on the ground floor.
****
Photo #35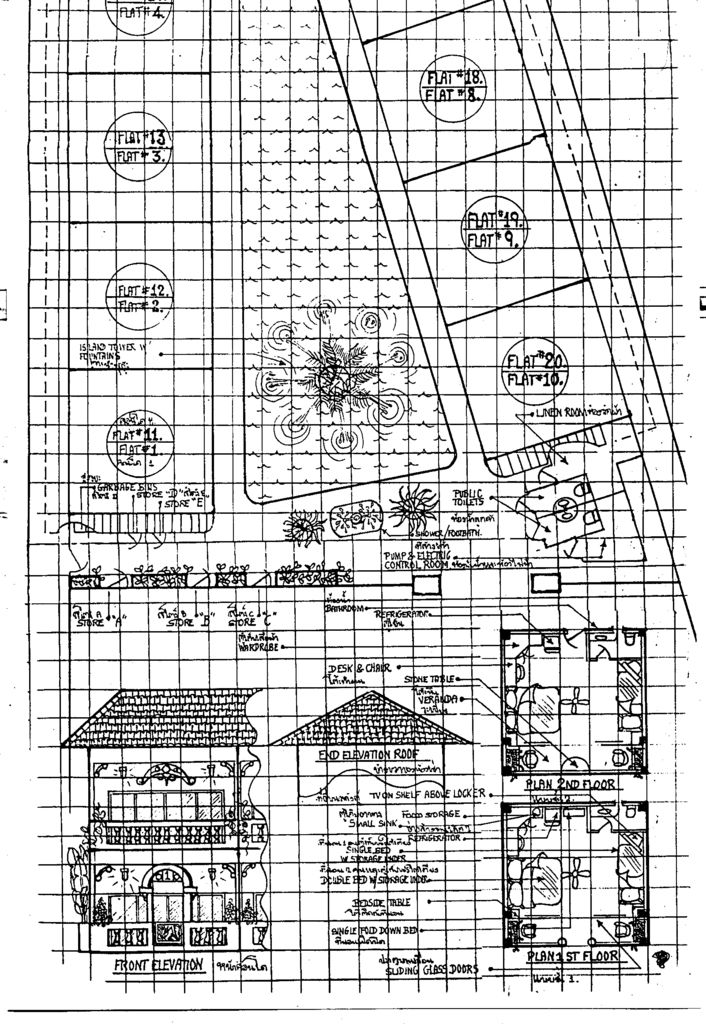 This is Part B of the same original hand drawn plan for the Big Gym City spare land .... & as BGC is a registered multi (residential &/or commercial) use property, this spare land could also (probably) have it's plans changed (& approved) for ANY reasonable construction (& use). Very versatile.
****

Photo #36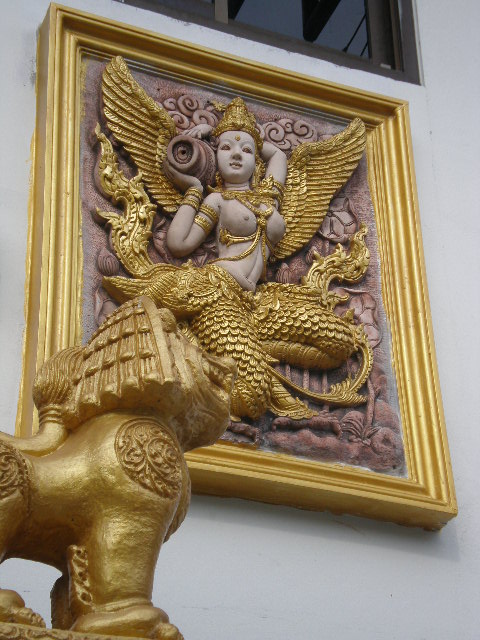 Another Thai Angel graces a quiet corner of Big Gym City. She (& the Lion) are made of stone & last for many decades (even centuries) if protected with acrylic paint or spray. easy to maintain & absolutely beautiful, & of course there is a spiritual aspect for all such copies of ancient figures of reverence (& each has a story that is known by all thai senior citizens (& surprisingly in this age of computers,a lot of kids too)
****
Photo #37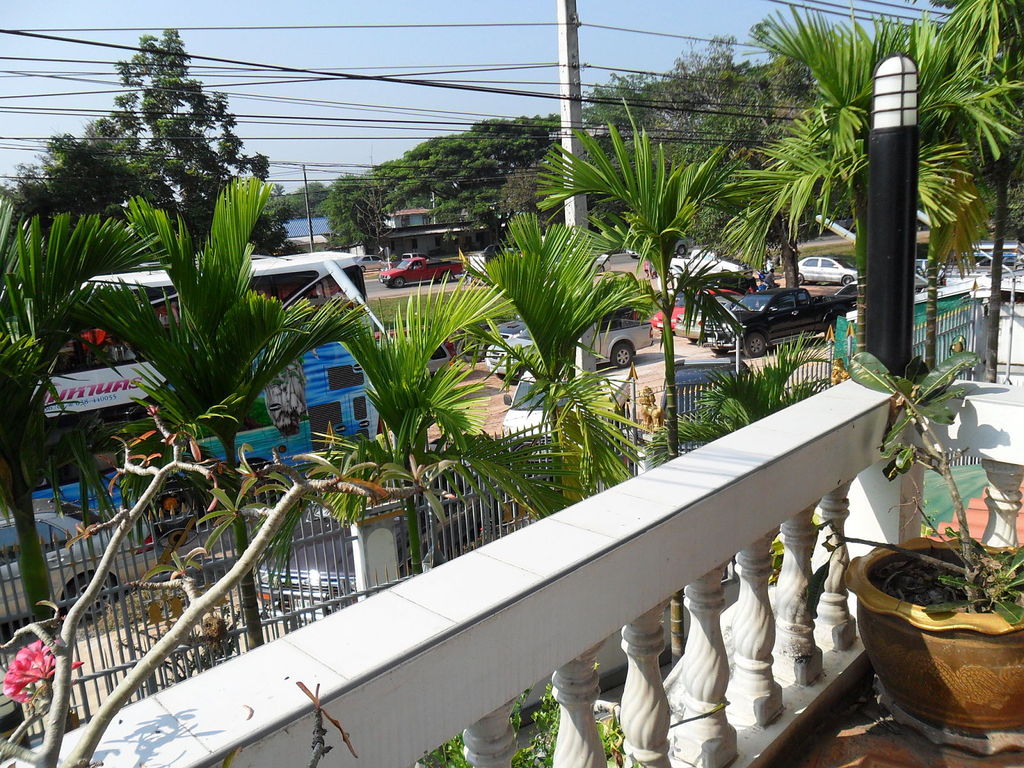 This photo shows the view from the 100sq.m Panoramic Art Studio balcony which overlooks the central section of the southern leg of the Udon Thani Inner City Ring Road. This is an important section of this booming city's inner ring road becos not only does it have superstores to both east & west (Tesco, Big C, Makro & many others). This Art Studio is temporarily being used as an oversize apartment by the owner of Big Gym City BUT as can be seen by this photo public exposure to this
"Art Studio"
is massive (in the region of 200,000 views/day)& this is not counting the as yet unused 14+m wide "signage" space above the fully glazed front of the
"Art Studio"
.
This very valuable commercial space is actually ideal for the prestigios head offices of any law firm, medical specialist, dentist, architect, beauty salon, estate agent etc.
****
Photo #38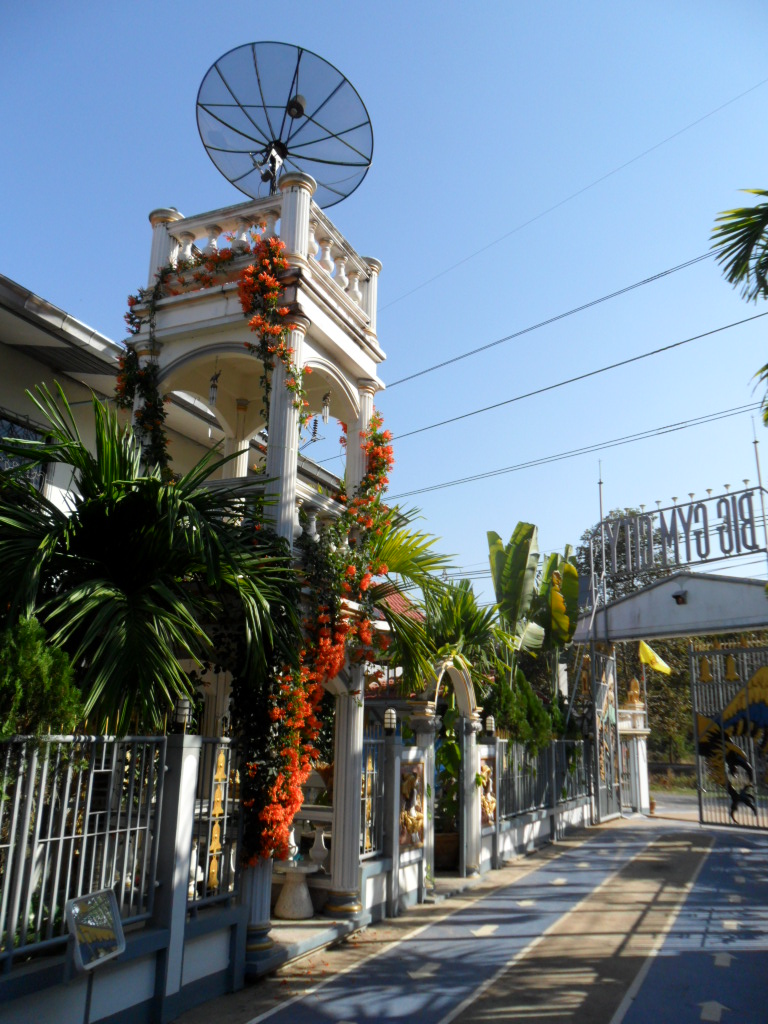 The only known Roman satellite tower in ALL Asia is here at Big Gym City, Udon Thani, Thailand. Okay, so you know of another ... then where is it? (
with photo please
) ... Anyway we won't argue about this small matter, but it is beautiful & functional & much admired even by the Thai garbage men (yes, they can of course appreciate art too). I love it (& very well built too)
****
Photo #39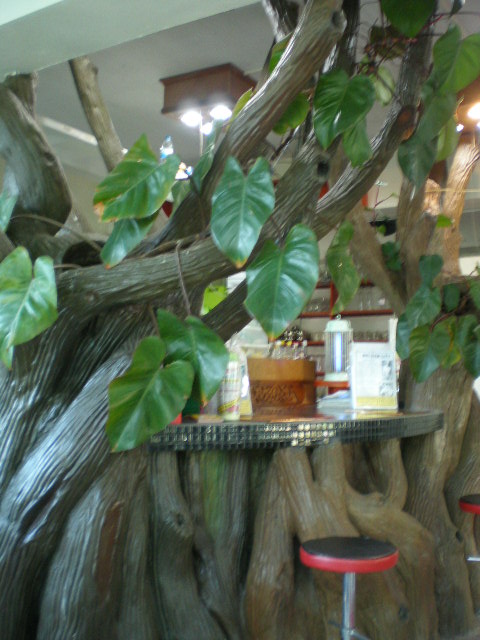 This is a corner of The Exotic Snack Bar which looks like the African jungle, but all is not as it seems, because the trees are actually concrete, hand crafted by one of Thailand's finest artisans (to a design by the party below). This granite topped bar & living jungle foliage, with roots going down thru the trees into the Thai earth itself. Much admired by any visitor with even a molecule of Michael Angelo's blood.
****


Photo #40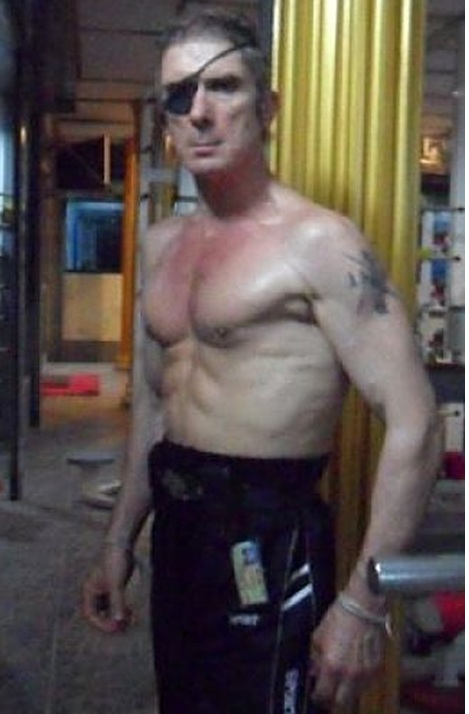 ****